SELF STORAGE NEAR Wells
Clear Space Self Storage offers you a wide range of high quality self-storage options conveniently located only 15 minutes from Wells, Somerset.
If you're looking for extra space for your business, renovating, moving house or just need some extra space, our storage facility near Wells has the space for you.
You'll find a storage solution to fit your needs all covered by leading security systems. With fair, flexible and competitive pricing and a range of self-storage units from small lockers to large rooms you can choose the size you need and how long you are staying with us – both short term or long term.
We're open 7 days a week, when our friendly and experienced team members are always onsite to help you and make your life easier. When you're a customer, you can come and go as you please during our opening hours using your unique personal security FOB device.
Find us at: 1 Mendip Avenue, Shepton Mallet, Somerset, BA4 4PE
Call us on: 01749 71 5000
Only 15 minutes from Wells
Wells City Centre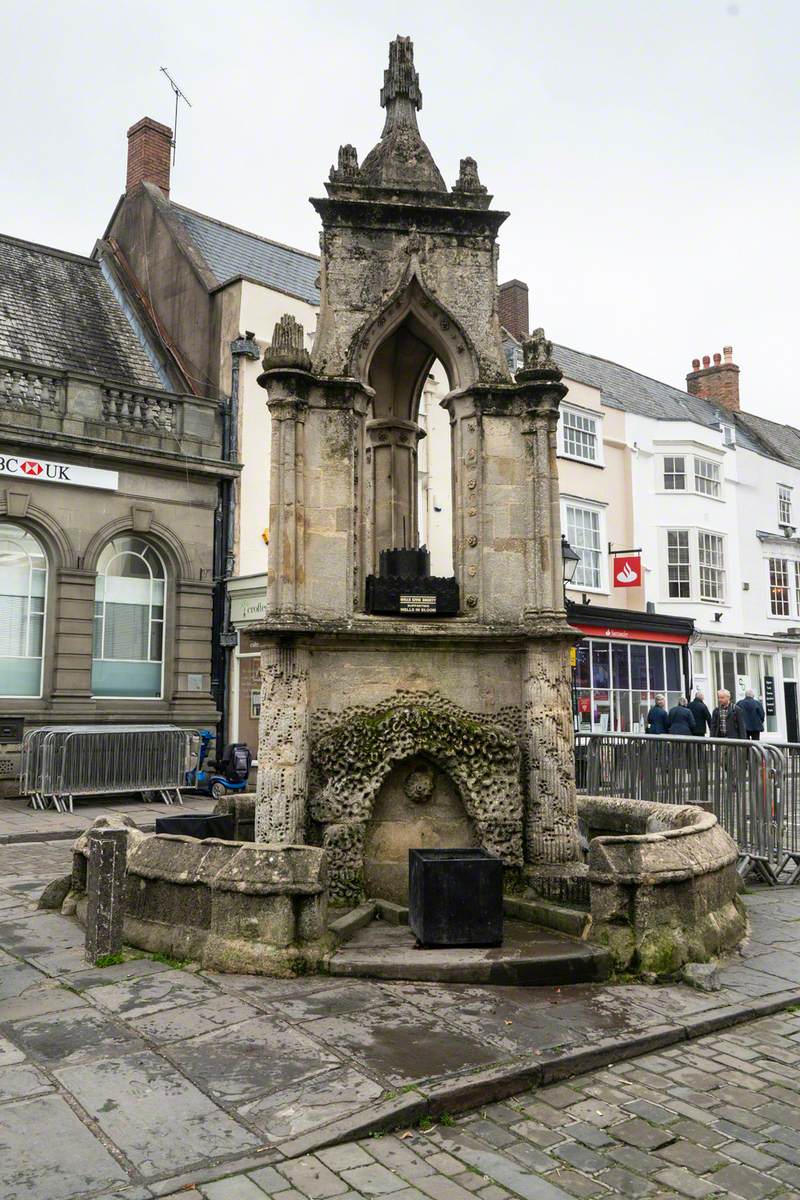 Why opt for Wells Self Storage?
There is a good deal of reasons to want a little bit more room. If you've just started on a property ladder or if your historic cottage feels a bit too crammed, Wells self storage is the answer.
A marvellous mix of traditional and modern style homes are on offer in the region, both for renting and buying. Founded by an Anglo-Saxon king in 704, the city has managed to retain many of its historic features intact, in spite of wars and other events.
If you are weighing up relocating to Wells, consider how much easier it is to coordinate when you have all your belongings stored neatly in one place. It makes transporting simpler, also means you can prioritize depending on which living area you want set up first. Don't just move everything all at once, you'll just make life harder for yourself.
Moving house is always a stressful time. Having to pack everything, dealing with all the services and subscriptions, organizing things ahead of time. It's all rather stressful. This is why in moments like these, self-storage can be essential.
Same thing with renovating. There are plenty of wonderful housing opportunities in Wells, but some might require just a bit of love. Instead of just trying to cover up all of your furnishings, having to keep everything clean and safe, why not just move some of your items to a dry and dust free unit. So many people have been putting off renovating, that storage space can mean premium rates. Not with us though. We have some of the most affordable prices on the market.
Our facility has ample room to accommodate any type of item, furniture or property that might need to be put away for a while. Take a break with the comfort of knowing everything is stored nicely, just waiting for you to come back. Some advice – avoid using plastic bags, as these can actually trap moisture and in time ruin your items.
Perhaps it's time for a change in your professional life? Although Wells is a quiet market town and is not famous for any specific industries, its convenient proximity to Bath and Glastonbury and its buoyant tourism sector makes it a desirable place for townies looking to escape their busy lifestyle.
Starting a new job or have recently received a promotion? Think about maybe putting your items somewhere safe and convenient while transitioning. For example, things that you want to hang on to but don't necessarily need right away or have sentimental value. Our Wells self storage warehouse in Somerset is clean, dry, well-lit, and protected by surveillance cameras and skilled personnel. With us, you can be certain that your belongings are secure 24/7.
Property Market in Wells
The average property value in Mendip, which includes Wells, is somewhat greater than the national average for England. Are you planning on relocating to Wells or looking for an investment property in the area? The average property value in Mendip, which includes Wells, is somewhat greater than the national average for England.
According to HM Land Registry data, the average price across Wells is currently around £349,000. Stats say that property prices in Wells and its surroundings have risen by 9% over 2021.
Although it may be difficult, it is still possible to find a buy to let property in Wells that is good value. 
Estate Agents in Wells
If you want to buy a property in Wells while the market is good, check out these estate agents. They have listings for all types of properties:
Greenslade Taylor Hunt – 74 High Street, Wells, Somerset, BA5 2AJ, 01749 605605

Allen & Harris – 15 Sadler Street, Wells, Somerset, BA5 2RR, 01749 676067

Killens – 10 Sadler Street, Wells, Somerset, BA5 2SE, 01749 671172

Holland & Odam – 55 High Street, Wells, BA5 2AE, 01749 671020

Lodestone – 36 Chamberlain Street, Wells, Somerset, BA5 2PJ, 01749 605088
Looking for some Wells self storage for your business?
Starting off or already established, we welcome any type of business. In fact, this is a fantastic solution for people who need to store inventory for any amount of time but don't have a specific self storage location. There is a number of adaptable unit sizes to select from, that can be further redesigned to accommodate your needs thanks to modular racking.
If you're in the building trade or require either equipment or tools to be loaded on a daily basis, why not consider one of our drive-up storage containers? It may easily become a central hub for your business.
Ample parking is available just in front of our covered unloading bays, where you may also grab a trolley if required. Even for larger appliances or equipment, there's no need to be concerned about accessibility, since both lifts and corridors are quite large and can accommodate easy passage.
At Clear Space's Wells self storage, you can come and go at your own leisure, our doors are always open. We will provide a unique cylinder lock for your unit and you will be the only one who has the keys to your stowed items. In addition, you will get a personal security FOB that allows access to our facility during business hours. It will be personalized to your individual contract. To give even more peace of mind, you should know that we don't recycle room locks.
We also offer onsite overnight parking for your cars as an extension service, so you can leave your car in our car park lot confident that it will be protected by access controlled security doors and CCTV.
You may also have your packages sent to this address if you choose. This can make admin much smoother, in case you wish to operate your business from a central operations location.
One thing we need to mention is that your property needs to be insured ahead of time. Don't worry if you haven't already. You can get a great deal on your insurance through our expert coverage. Wells Cathedral photo by Julian P Guffogg under Creative Commons licence.
Glastonbury Festival
Wells – a city with deep roots and rich history that has always been an attractive residential location. It is UK's smallest city with just 12,000 inhabitants, however, its "smallest" status is often disputed by Londoners who claim the City of London is smaller. Wells has some of the features of big cities – plenty of entertainment and diversity, but without the crowdedness and the pollution. A wonderful landscape all around, just as a bonus. What it does not have that much space…and this is where we come in.
Just 4 steps to your ideal and simple storage solution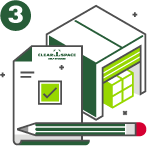 Reserve your SECURE storage unit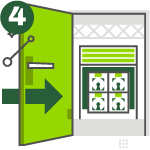 Store away FOR AS LONG AS YOU LIKE!
Send your enquiry to our team
Visit us
CLEAR SPACE SELF STORAGE servicing Glastonbury
1 Mendip Avenue
Shepton Mallet
Somerset
BA4 4PE
EVERYTHING YOU NEED UNDER OUR ROOF
Opening hours
| | |
| --- | --- |
|  Monday | 08.00 am – 06.00 pm |
| Tuesday | 08.00 am – 06.00 pm |
| Wednesday | 08.00 am – 06.00 pm |
| Thursday | 08.00 am – 08.00 pm |
| Friday | 08.00 am – 06.00 pm |
| Saturday | 09.00 am – 05.00 pm |
| Sunday | 10.00 am – 04.00 pm |
What to expect from
Clear Space Self Storage
servicing Glastonbury?
Fair Pricing

Flexibility

Clean, Safe & Dry Storage

Friendly Customer Service
High Security

No hidden charges

24/7 Digital Monitored CCTV

Monitored access to the site
Fair Pricing
Flexibility
Clean, Safe & Dry Storage
Friendly Customer Service
High Security
No hidden charges
24/7 Digital Monitored CCTV
Monitored access to the site
Clear Space Self Storage units are affordable, flexible and secure
and they are easily accessible for our customers in Glastonbury
How storage should be done! We hired a room for just over a year. Good price. Clean and pleasant environment, excellent logistics, helpful staff. Just very good.

Martin Van Tol


September 14, 2023

A great experience from start to completion. No problem recommending to other people requiring storage capacity.

Jaz Eavis


July 20, 2023

Lovely and efficient staff, Shaka was welcoming and made everything easy. Cherry and her little dog were lovely too. The unit was clean and spacious. When we needed to vacate at short notice, it was no problem and a refund was in my account within three days

Mike T


March 21, 2023

Great service, reasonably priced, and friendly team who made it easy to set up. Very flexible and not locked into long contracts. Would absolutely recommend!

Ed Hatwell


March 9, 2023

Amazing and friendly staff, Cherry was so welcoming answering all our questions and queries and showing us around to help us find what was best for us! Communication was also brilliant! Would recommend anyone using them! And you also get greeted by the cutest doggo too! 🐶

Megan Benn


February 28, 2023

Switched from another local storage facility due to price, cleanliness and convenience. As a business we need access to our container 24/7. Security is excellent, staff knowledgeable & site is very well positioned for ease of access. Highly recommended.

Simon Moody


February 28, 2023

The whole team made the experience wonderfully easy - even when I didn't! Easy booking, great advice and, most importantly, excellent storage facilities. Downsizing and moving is stressful but Shaka and his colleagues helped downsize the stress too. Nothing is too much trouble and, believe me, no question too stupid (I had several of these!). Ending my contract was straightforward and I have to admit I was a little sad because everything had been so good. I cannot recommend Clear Space Self Storage highly enough. Thanks guy - you were great!

Lesley Stewart


February 13, 2023

Really friendly and helpful service. Flexible with swapping unit sizes and you only pay for the time you use, no contract or long term commitment. Also clear easy access!

Freya Edmondson Yoga


December 16, 2022

Great facilities. Had 3 rooms for more than a year (longer than expected!). Nice, friendly, helpful people. Excellent communication throughout.

T W


October 8, 2022

Great experience from start to finish. Lovely expert staff, clean facilities and easy to access both inside and out. I highly recommend Clear Space Storage.

Kylie Edwards


October 1, 2022
Why choose to store with Clear Space Self Storage?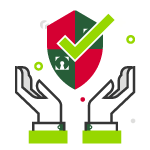 HIGHLY SECURE
We use leading security systems to bring you the most secure storage facilities near Glastonbury. Your door key lock and unique security access FOB device are brand new and programmed only to you.
FRIENDLY SERVICE
Our friendly and experienced team members are always onsite during opening hours to help you and make your life easier.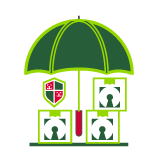 CLEAN, SAFE, DRY, SECURE
 Industry leading, high quality indoor and external storage facilities designed to keep your belongings in the same condition as the day you moved them in to storage with us.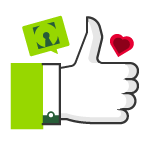 EVERYTHING YOU NEED UNDER OUR ROOF
Use our spacious customer welcome area to take a break. Help yourself to free coffee, teas and water. Buy boxes, bubble wrap & tape, insurance, van hire, removals and man & van services. Stay connected! Catch-up on those emails with our free super-fast Wi-Fi.
FAIR PRICING AND THE ULTIMATE IN FLEXIBILITY
Our self-storage pricing is competitive and transparent. We charge you for your storage by the day. You only ever pay for the unit size you occupy and the exact number of days you store with us. You can increase or decrease your storage size as often as you like.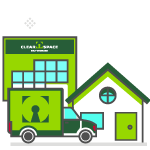 EASY ACCESS
Our site near Glastonbury is open 7 days a week. Use your unique personal security FOB device to access our storage facility during opening hours. Then use your new and unique door key to open your room. We do not re-use security devices or room keys. You're in safe hands with Clear Space Self Storage.
Clear Space Self Storage's units are
affordable, flexible and secure and they are
easily accessible for our customers in Glastonbury.